Last summer I returned to England from the U.S.S.R., where I had been privileged to spend a year of post-graduate research at Moscow University. It was an unrivalled opportunity to get to know the city of Moscow and the complex­ities of Soviet life, to a degree that diplomats and journalists (almost the only Westerners who live in Russia for any considerable length of time) unfortunately cannot attain. The city itself—which hides most of its interest and many of its architectural treasures in out-of-the-way quarters —was constantly fascinating to wander through; its people were friendly, characterful and as thoroughly Russian as the stories of Gogol.
But my greatest delight, as often as work and weather permitted, was to leave Moscow (whether for an afternoon, a day or a whole weekend) and ex­plore the countryside around it—a countryside which, with its great forests and its rivers, its monasteries, mansions and ancient towns, is unusually beautiful while almost unknown to non-Russians.
Such exploration has its difficulties. Some knowledge of the Russian language is essential if one goes far by oneself; and the city-conscious Muscovites in the tourist bureaux are unlikely to help arrange a visit to (or indeed to have heard of) some of the remoter places of interest. Resident foreigners are expected to get per­mission to travel more than twenty-five miles from Moscow; few provincial towns have hotels where they can stay. But I equipped myself with the excellent Russian guidebook Pamyatnye Mesta Podmoskovya, later on managed to find a copy of the good but hard-to-come-by hiker's map of the province, and used the elektrichka­the suburban electric railway, whose ten radiat­ing principal lines reach fifty miles or more into the country—to take me to the station I needed and back. Erratic, lurching country buses also helped occasionally and, in summer, river or canal boats can be taken; but more than any­thing else I relied on my feet, for this is marvel­lous walkers' country: continually varied, free from hedges or fences, solitary but without oppressive distances.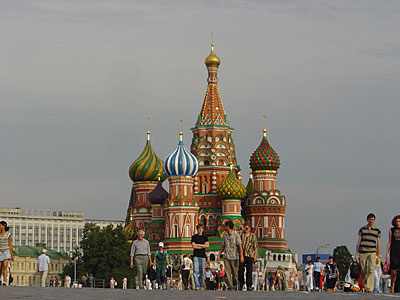 There were a few occasions, however, when I travelled by private transport. The first of these was soon after I arrived in Moscow in the Sep­tember of 1960. The ten British students at Moscow University decided to make an all-day excursion to Yasnaya Polyana, the country house and estate which was made famous through being the home of Tolstoy. It is a long way from Moscow—some 125 miles–and as we set off in a remarkably tinny bus hired by the University we slowly came to realize that we were facing a journey of over four hours in each direction. The day too was inauspicious: heavily overcast (as so often in a Russian autumn and early winter), so that for once even the brilliant spec­tacle of the autumnal leaves scarcely brightened the scene. But at least one could see something of the country which lies to the south of Moscow: flat, interrupted by sharp wooded valleys, the foretaste of the southern steppes. The well-made road ran through Serpukhov—one of the ancient cities of the Moscow province, today sadly neglected-looking though populous—crossed the great river of middle Russia, the Oka,.at a bridge watched (like every other important one in Russia) by uniformed armed guards, reached Tula (the 'Sheffield of Russia'), skirted its decaying kremlin and its mining belt and turned off to Tolstoy's estate. This was tended like a shrine; Tolstoy's grave, a mound of turf without memorial, was suitably deluged in russet leaves. We could sense the love, even worship, which Soviet Russians accord to the great figures and monuments of the past—perhaps in compensa­tion for the turbulence of their recent history. Alas, after the lengthy journey and necessary meal (at the very decent restaurant near by) we had to hurry round the house and park in an hour or so. And on the return journey, already after dusk, the expected happened—the elderly bus, having once or twice spluttered to a halt, finally broke down. Luckily it happened in the outskirts of Moscow, and leaving the driver to tinker morosely with the engine we drifted home circuitously by public transport.